Neon Night #10
11 Gennaio 2020 @ 21:00

-

12 Gennaio 2020 @ 3:30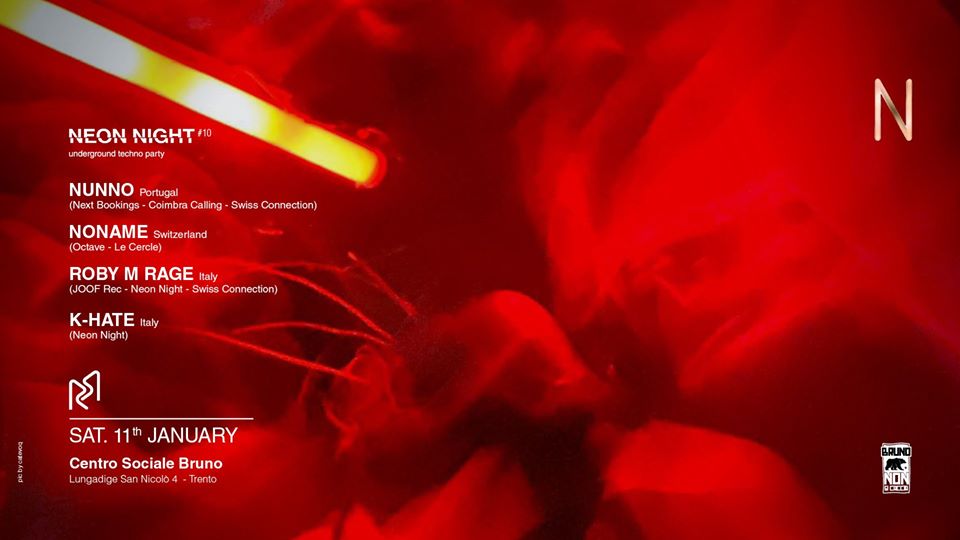 ■ NEON NIGHTS #10
Primo appuntamento del 2020 con Neon Night, l'evento mensile dedicato all' underground della musica elettronica. Arrivano dal Portogallo e dalla Svizzera i prossimi ospiti, Nunno e Noname. Saranno i nostri resident Djs, Roby M Rage e K-Hate ad aprire e chiudere questa prima Neon Night.
■ Underground Electronic Music |
Line up
Nunno [Next Bookings – Coimbra Calling – Swiss Connection]
Noname [Octave – Le Cercle]
Roby M Rage [Eclipse, Hydraulic, Neon Night]
K-Hate [Neon Night]
---
■ NUNNO
was involved with music since early days. In 1995 with only 15 years old he was part of a big radio show dedicated to the promotion of new styles and musical tendencies, responsible for the big push of the electronic scene in Portugal. In the summer of 1999 he was part of Extra Agency which gave him the possibility to perform regularly allowing him to conquer a huge collection of nationwide emerging fans in the electronic environment. These fans were the support and incentive that Nunno needed to develop his strong and intelligent work. In the last years he has given proofs on the production of his own ideas, with several tracks edited in labels such as Meridua Rec (PT), Afroboogie (EAU), Bellarine Rec (AUT), Magna Rec (PT), Substance Rec (USA), Tanira Rec (PT) or Coraza Rec (USA)
His work has been so fresh to the dance scene that some of his works have been selected by artists like Chus & Ceballos (SPA) to be included in edited compilations. His known musical experience is reflected in his accurate mixing and his adaptation to the dance floor, which results in an always exciting and pleasant musical surprise.
Nunno among the most respected, loved and requested Portuguese djs. His grooves and rhythms have placed him alongside with some of the best professionals like Luke Slater (UK), Marco Carola (ITA), Christian Varela (SP), John Creamer (USA), Lexicon Avenue (UK), UMEK (SLO), Samuel L. Session (SWE), Ben Sims (UK), Marco Bailey (BUL), Henrik B (SWE), Valentino Kanzyani (SLO), Red Head (BUL), The Advent (PT), Oliver O. (UK), Peace Division (UK), Hector Romero (USA), Darren Price (UK), Tom Stephan (USA), DJ Chus (SP), Ismael Rivas (SP), DJ Vibe (PT), Miss Sheila (PT), Carlos Fauvrelle (PT), Frank Maurel (PT) to name just a few…
FACEBOOK
https://www.facebook.com/nunno.pt/
■ NONAME
NoName est un artiste ayant découvert sa passion des musiques électroniques durant l'âge d'or de la Trance entre 1997 et 2003. Après s'être produit durant quelques années sur la scène Hardstyle Suisse et Française avec des références telles que la Lake Parade, Mindcontrol, Miami Withe ou encore Hardmasterz, il décide en 2018 de revenir à ses origines : la techno. Ses prédilections pour les sonorités lourdes le qualifient comme un artiste prédestiné à un des sets dynamiques aux sonorités dark. Par sa technique, il espère pouvoir atteindre votre seuil de douleur auditif.
Références:
Back2noize radio show
Vinyl Club Lausanne
Loft Club Lausanne
Hardmasterz 2
Neodyme 5
Confuzion 1
Miami White Summer édition 2012
Lake Parade 2012
Axelerator L&B Yverdon
Axelerator Kadok club Lausanne
Synergy 2013 @Globull
k-club Fleurier
VSD Club Digital Punk – Adaro
Footworxx Case à Choc
Kataklysm Festival France
Mindcontrol
Kings of Raw (France)
Lake Parade 2014
VSD Fleurier
FACEBOOK
https://www.facebook.com/noname.swiss/
—————————————————————-
Roby M Rage
Born in Italy and passionate about electronic music since his youngest age. In the late 80's, he made it it's greatest passion starting to mix in different night clubs, festivals and radio shows. Roby M Rage was #1 in the ranking of underground dj's on Trend Discotec in 1999 and actually he is in the Top 40 Hard Techno artists in the world.
He also reviewed artists for the prestigious British magazine "Dj Mag" in the second half of the 90's. Mainly influenced by labels such Warp, R&S, Bpitch Control, Nervous, Ninja Tune, Soma Records, Drumcode, Second State, he has now his very own style, dark, groovy and psychedelic techno and his music is released by the biggest labels. Roby M Rage reached the Top 10 on Beatport with several tracks and releases. In 2017 his remix of "Crveni Djavoli" by Royal Wolf was palyed in the "Global Trance Grooves" by the legend of the trance music, John 00 Flemming. Together they released a track named "The devils gates of heaven", entered at #25 in the Top 100 Trance in Beatport chart, on JOOF Recordings.
Roby M Rage reached the Beatport Top 10 and Top 100 Hard Techno, Trance and Electronica/Downtempo genres with several tracks and his music is supported by John 00 Fleming, Deborah de Luca, DJ Rush (he played 'Don't mind' Roby M Rage remix, at Awakenings 2018 and Boiler Room Rotterdam), Diarmaid O Meara, Aly & Fila , Cristian Varela, Luke Slater, Africa Islam, Paco Osuna, Lisa Lashes, Dr. Motte, Mark EG, Tempo Giusto, Davey Asprey, Trevor Rockliffe, Gordon coutts, Will Rees, Scott Project, Jam El Mar and much more
INSTAGRAM
https://www.instagram.com/robymrage/
—————————————————————-
Info:
🚭 SMOKE OUTSIDE!!!
<<no racism no sexism no homophobia>>
Open 22.00 – no glass