Tanti Auguri Bruno: Three Years of Steel Wheels w/ Lizard & Marco Upset
12 Ottobre 2019 @ 22:00

-

13 Ottobre 2019 @ 4:00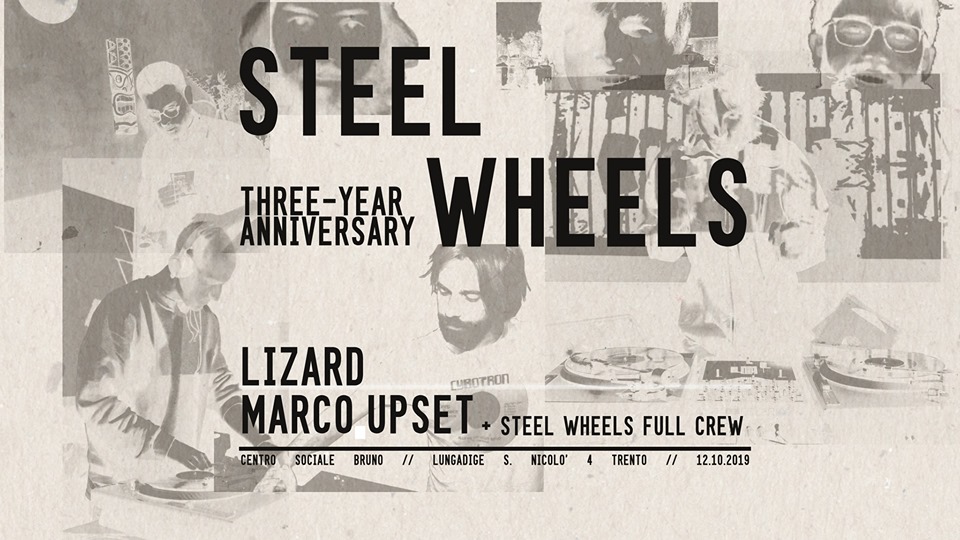 ———————- Steel Wheels & CSA Bruno ——————————-
Three-year anniversary with:
◥◣ Lizard Music
◥◣ Marco Upset
◥◣ Steel Wheels Full Crew
Una serata eclettica e avvolgente, in pieno stile Steel Wheels. Per l'occasione del terzo compleanno  abbiamo il piacere di reclutare in squadra Marco Upset, con cui abbiamo già avuto l'onore di divertirci  assieme in consolle, e Lizard, direttamente dalla scena underground bolognese.
–––––––––––
BIOs
___________
◥◣ Lizard
Massicce influenze ed importazioni d'oltremanica. Downtempo, future jazz, garage house e una predilezione per jungle e drum and bass. Membro delle crew bolognesi WHP, Mint Sound e B.U.M. Ha prodotto musica per PURISM, The Dreamers, Fonotopia Rec e Liquid Flavours.
e s p e r p e n t o #14 // LIZARD (B.U.M.):
https://www.mixcloud.com/esper-pento/e-s-p-e-r-p-e-n-t-o-14-lizard-bum/
Radio Autentica #39 – Lizard – Liquide vibrazioni:
https://www.mixcloud.com/autenticaon/radio-autentica-39-lizard-liquide-vibrazioni/
Purism:
https://purismlabel.bandcamp.com/album/breakfast
The Dreamers Recordings:
https://thedreamersrecordings.bandcamp.com/track/lizard-stabbing-tdrva002m
◥◣ Marco Upset
"10 anni fa, sull'onda della consacrazione internazionale del dubstep, la Soul Jazz Records pubblicò un documentario di Bruno Natal, intitolato "Dub Echoes", in cui veniva descritto il ruolo cruciale del dub nell'innervare buona parte delle musiche più significative che hanno preso forma dagli anni '70 in poi. Nei suoi dj set, Upset sembra illustrare proprio questo concetto, percorrendo quel segmento del continuum UK che dalle radici dub jamaicane conduce al dubstep e alle mutazioni-ibridazioni con la techno, passando per le frange più avant del grime e dell'odierna bass music […]" Alarico Mantovani – Ghost Tropic Radio Show – 2018
Fulmen #6 with Carlo Maria and Caterina Barbieri guest: Marco Upset 29.05.2018:
https://www.mixcloud.com/CashmereRadio/fulmen-6-with-carlo-maria-and-caterina-barbieri-guest-marco-upset-29052018/
Geratan Mix:
https://soundcloud.com/upsetselector/upset-getaran-mix
——————————————————————————————-
Steel Wheels
Steel Wheels è un collettivo di djs/selectors formatosi nel 2016. Riunisce in un unico gruppo collezionisti di vinili con riferimenti musicali differenti, ognuno intento ogni giorno a scovare pezzi da condividere e suonare alle serate.
◥◣ PRO A : hardcore hip-hop dalla Golden Age Era, rigorosamente East Coast. Attitudine da turntablist, scratch e beat jungle.
◥◣ PEDRO LM: UK bass, dub techno, dubstep, grime, dub e stepper; produzioni contemporanee dalle più introspettive a quelle più originali della scena sound system internazionale.
◥◣ SPACE YEAH : Classici acid house e UK hardcore, a cui si aggiungono moderni pezzi breaks, lo-fi house e rave-revival.
◥◣ TENACIOUS TAPE: highlife, soukous, kwaito e bubblegum per descrivere parte dell'esperienza musicale africana, zouk, soca e island disco per esplorare la tradizione delle Antille.
Live visual:
◥◣Tempi.Migliori:
Rigorosamente live, tende a lavorare sulla bicromia. Maniaco del tempo, a volte a fine serata abusa di scritte in sovrimpressione.
Ingresso riservato soci
NO NAZI
NO GLASS