Neon Nights #5
2 Febbraio 2019 @ 22:00

-

23:30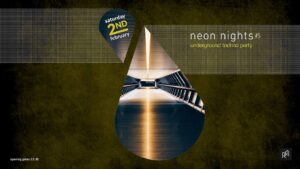 Dopo il grande successo dello scorso anno che si è concluso con un party meraviglioso, la notte di Capodanno, torna al Centro Sociale Bruno con il quinto appuntamento, Neon Nights, l'evento mensile dedicato all'underground della musica elettronica!
Continua il nostro viaggio alla ricerca dei migliori Djs underground internazionali e per il primo evento del 2019 ci fermiamo in Francia per incontrare un grande artista. Vive e produce a Parigi il boss della etichetta discografica Jays Records, headliner di questo evento. Natalino Nunes è da oltre 15 anni nella scena Techno di tutto il mondo con dischi pubblicati dalle migliori label.
I nostri efficacissimi resident djs, Roby M Rage, Nicola Belli b2b Matteo Roma completano questo evento che si annuncia incandescente.
Siamo pronti e carichi per dare il via ad un nuovo anno di musica, balli e sorrisi.. Always peace and love!!!
■ neon nights #5
| Underground Electronic Music |
■ Line Up
Natalino Nunes
Transmit, Unity, Session Womb, Black Swan, Deeperfect, Reload, DSR, Toolroom
Roby M Rage
JOOF Recordings // DSR Digital // Eclipse Recordings
Nicola Belli b2b Matteo Roma
Wham Collective
■ Visual Mapping
——————
Natalino Nunes
https://soundcloud.com/natalinonunes
Dj/producer Natalino Nunes, also founder of Jays Records label.
Based in Paris, fascinated by electronic music since the age of 16, Natalino Nunes has been working over 15 years as a Dj/producer.
Born in Cabo Verde, Natalino Nunes draws its influences from the hot and catchy rhythms of his music homeland, but also in Portugal underground and techno culture, where he lived for many years.
His releases are coming out on the international labels such as, Transmit – Unity – Session Womb – Black Swan – Deeperfect -Reload – DSR – Magna – Jays Records – Toolroom – Night Light -Mudra Audio and many others.
His music is supported and played by Ritchie Hawtin, Slam, Jay, Lumen, Sam Paganini, Dubfire, Roger Sanchez, Paco Osuna, Monika Kruze and more
Inviting a host of international DJs including Adam Beyer, Nicole Moudaber, Alan Fitzpatrick ,Christian Smith,Dense & Pika, Paul Woolford to play for his label parties has secured Natalino as a firm part of the Parisian underground
——————
Roby M Rage
https://www.instagram.com/robymrage/
Roby M Rage born in Italy, passionate by the electronic music since him youngest age, he made it's greatest passion, in the late 80's start mixing in different night club, festivals and radio show.
Roby M Rage was #1 in the ranking of underground dj's on Trend Discotec in 1999 and he also reviewed artists for the prestigious British magazine "Dj Mag" in the second half of the 90's.
Reached the Hard Techno chart on Beatport with several tracks & releases and the new EP on Yin Yang Records "Naked Sun" was 2nd in the Beatport Hard Techno Chart in January 2018.
New release soon on JOOF Recordings with a brilliant track with the legend of Trance music John 00 Fleming.
——————
Nicola Bellii
https://soundcloud.com/nicola-belli
Although too young to take part Nicola Belli lived his childhood and adolescence in the "Rave Era" of the late 90s, the images and sounds remain impressed and infuence the musical path.
In 2001, as many djs began to put the records in small clubs in his city to become a resident dj in the university nights where a little at a time a real underground scene is formed, from there the jump in increasingly important clubs including Le Queen -Paris, Tresor – Berlin, Bora Bora – Ibiza.
His debut as a producer on Viva Music together with Dragosh (we or us) sees the support of artists such as Villalobos, Steve Lawler, Luciano and others.
He currently collaborates with the UK label Dubgestion where he can listen to his latest productions
His DJ set is a journey between timeless House and Techno music.
——————
Matteo Roma
https://www.facebook.com/pg/matteoromadj/
Matteo is an ambivalent figure in the world of electronic music. In the last decade as dj he performed in some of the best spots in Europe as Tresor in Berlin, Barrakud Festival in Croatia, Greece and Ibiza. He is also very active in his home country Italy with appearances at Alterego, Mazoom, Kinki, Jazz:Re:Found, Automat Radio and Distretto 38, experimental festival founded with his contribution. From ten years he is also author of Dj Mag, the most famous electronic music magazine in the world and contribued to many relevant projects for the development of the club culture in Italy as "What Is Clubbing" in Florence with Tenax and IED and Signal Hills, radio show on m2o. From 2018 he is also scouting new talents around the world for the international booking agency "Happy Few".
_____________________________________________________
Info:
<<no racism no sexism no homophobia>>
Open 22.30 – no glass